Online Timesheet Software
Powerful Online Timesheet makes time tracking fast simple and incredibly easy to manage
Online Timesheet Software Features
Smart & Simple Time Tracking
Flexible Online Timesheet
Simple, flexible and powerful time management software that requires the least effort from your staff. Easily capture your employee timesheet data for accurate payroll processing , labour law compliance
Automated Notification
Automatic e-mail reminder for employees before and after past due dates. Email notification are automatically sent to respective employees when Timesheet submission is approved or declined
Projects & Jobs Time Tracking
Easily track time spent on projects, clients and sites for better insights and improved budgeting, forecasting and resource planning.
Track Chargeable & None Chargeable Time
Analyse billable & none billable hours to effectlivley better use & utilize your resources
Flexiable Time Entry
Flexible data entry (enter start/end times or just a duration). Both weekly and daily views available for timesheet entry. Customize your timesheet and select which data to collect from employees.
Timesheet Approval & Rejection
Easily see pending approval, not submitted, Rejected and approved timesheets. Approving and denying time is a simple click of a button. Approve and reject multiple timesheets. Save Time!
Leave paper schedules & timesheet behind and take the pain out of manual processes
Mobile timesheet with GPS & GeFencing
Mobile timesheet. Track when and where your staff punch for shifts. Track employee time and location easily, from anywhere. Leave paper schedules & timesheet behind and take the pain out of manual processes
Timesheet with Different Views
Online timesheet software allows you to view and edit timesheets in a weekly or daily view. Say goodbye to paper work, and avoid the hassle of manually calculating totals. TimesheetsManager gives your employees the flexibility to enter time online, or tablet, with our intuitive and easy to use interface.
Timesheet Templates
TimesheetManager offers multiple timesheet templates that allow employees, managers, or timekeepers to record employee time and labor information from any web-enabled device. You can create your own timesheet template to suit your company needs.
User Friendly & Customizable
The system is entirely configurable and can easily be tailored to match your company needs and time collection requirements, such as whether you need to track specific start and finish times or total time duration.
Compare Timesheet with Roster Hours
Approve Timesheet
Users submit their timesheet, Project managers will receive an email with a link to review and approve the timesheet.
Reject Timesheets
Found error in time, reject it and the timesheets are sent back to the user to correct errors and resubmit the timesheet
Lock timesheet
For simple employee time management, you can prevent editing after the timesheet is submitted.
Offers a simple and effective reporting dashboard to better understand your employees use time.
A quick overview of what's on your desk right now. See a weekly total across all your jobs
The dashboard offers a variety of views ranging from employee, task and project related hours.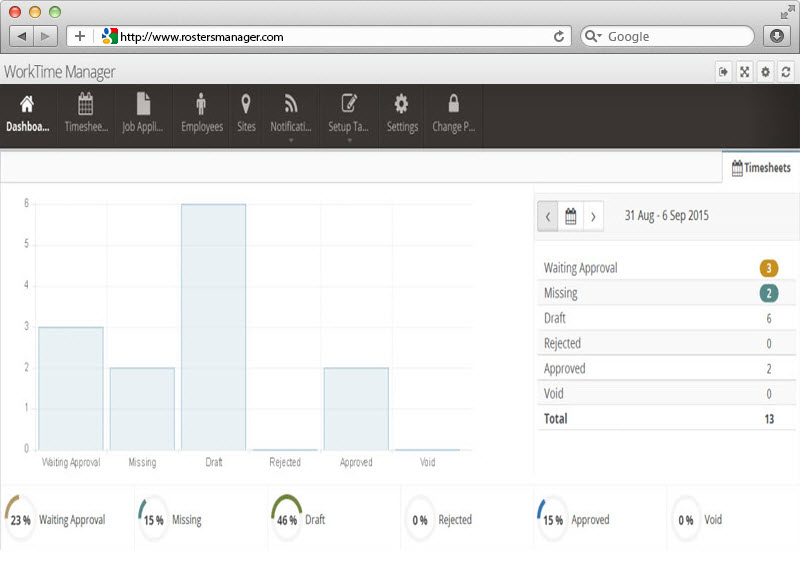 Drag & Drop interface. Extermely easy to use & user friendly
Our services are accessible online 24/7, which makes timesheet management easier for you. Plus, there's absolutely no software to install. Start using TimesheetsManager from anywhere and any location.
Audit trail of all changes
We track every change ever made to the timesheet, so you can always go back and see which clock times were edited, deleted, by whom, and at what time. Your data is backed up daily.
Try before you buy
Timesheet Manager is used in thousands of ways, by individuals, contractors, teams, small business and payroll officers every day.
Online Timesheet Software
Simplify your remote workforce managements and reduce cost, no matter your industry.