Online Rostering Software
Flexible Ultra Fast Employee Scheduling
An innovative graphical interface speeds the process of building rosters and addressing the related labour costs. Available and qualified employees are easily selected to fill any role and cover any shift
Drag & Drop
Easily Assign, Copy/duplicate and move shifts using drag and drop features. Save time and effort.
Copy & Replicate Roster
Design your site roster once, copy current week roster to next week's by one mouse click.
Prevent double bookings
Our scheduler is set up to make double bookings impossible.
Automatic Notification
Send automated emails and text to notify your employees when shifts are created and updated. Improve employee accountability & feel confident that every
Assign Staff & Publish
Publish Rosters and notify your employees via email, SMS or push notification. Employee also access their schedule via ClickTime mobile
Fatigue & Overtime Management
Avoid employee fatigue with rules for maximum days in a row, daily and weekly hour and shift limits, and much more.

Lock & Protect
Lock all shifts from changes by other work colleagues once payroll is completed
Quickly fill a shift
Has someone dropped a shift and Can't make it? With a few clicks, the scheduler can suggest the best available and free employees.
Once Click Scheduling
Assign employee schedule with a single click. Our online rostering software scheduler will prevent scheduling conflicts & prevent human errors
Publish Roster Instantly
With few mouse clicks, send each scheduled employee a copy of his weekly roster on his mobile APP, SMS or Email.
Automated Shift Reminders
No more excuses, employees are automatically reminded by email & mobile push notification when they have upcoming shifts.
Because Microsoft Excel Leaves Tasks Unfinished, Trust WoktTimeManager to Get the Job done
Assign Task/Activity to shifts
Assign any task/activity & Job Reference to shifts or PO to better track and manage your shifts
Multiple Schedule Views
The schedule allows you to view the schedule however you want. Select from multiple views including weekly, monthly by employee, site or position to help you manage your schedule more easily.
Colored Shifts
Each shift, can have a unique color to indicate its current status e.g. Confirmed, tentative, none chargeable. void. This makes it easy and simple to view and read the roster visually.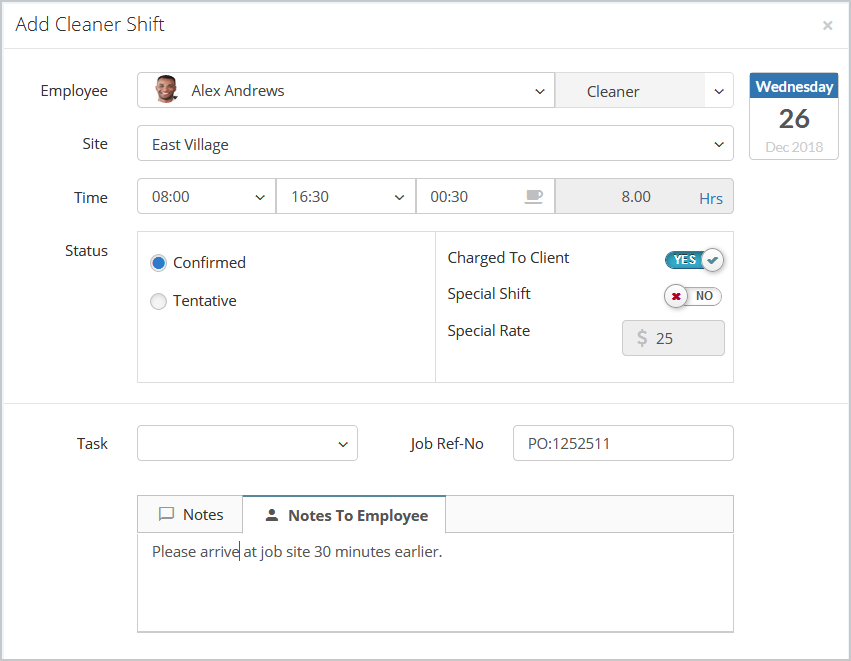 The Best Way to Ensure Your Employees Know When & Where They Are Working
Online Rostering Software. Access Schedule From Anywhere
As soon as you publish your schedule, the employees receive an email, push notification & SMS where and when they are working. Our ClickTime APP, lets employee see their updated schedule at any time on their smart phones.
Employees no longer need to call work to find out about their shifts. No more phone calls, reduce time and save money by using our online rostering software.
Shift Notes
Comminication is easy with WorkTimeManager. Changes can be made easy and re-published to your employees. If you need to explain changes or send shift instructions, then simply add shift notes to your employees to see.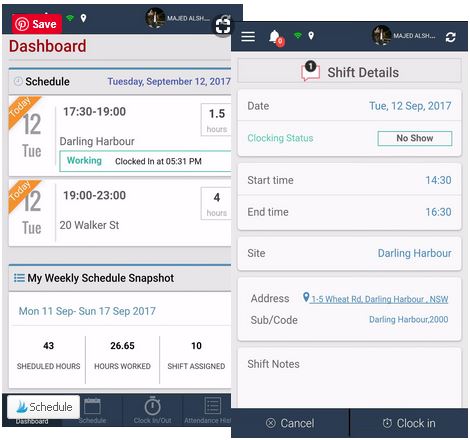 Get Instant Alerts For Licenses & Certification Expirty While Scheduling Employees
A Powerful Online Rostering Software
Simplify your remote workforce managements and reduce cost, no matter your industry.